When I was a child, Milo was a common night-time drink during winter. Just secretly, we used to love sprinking it on ice cream, too!  I am aware that this fortified chocolate drink (fortified with extra vitamins and minerals) is not sold everywhere in the world, so let me explain.
It is an Australian drink, invented by Nestlé in Sydney in 1934, and is very similar to Ovaltine. Generations of children in Australia are very familiar with this product. For me, however, it has come to represent a great deal more! As a teenager, I discovered that there was a real "Milo" and that the drink was named after him.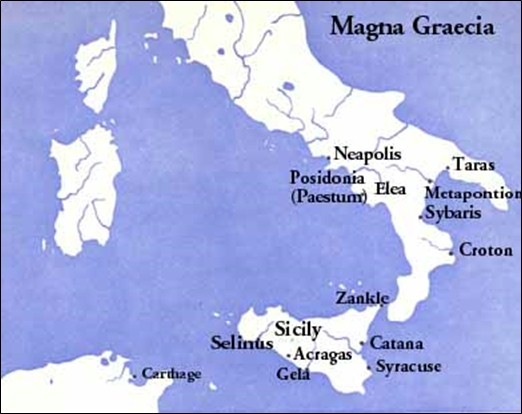 Milo lived in a Greek colony called Croton in southern Italy just over 500 years BC (i.e. 2500 years ago!).  There were many Greek colonies along southern Italy at that time.
You need to understand that he was a remarkably strong man ... possibly the strongest historical Greek figure. He competed in the open wrestling event in the original Olympic Games and WON AT SIX SUCCESSIVE OLYMPIC GAMES! Can you imagine someone today winning the wrestling as, say, an eighteen year old, and still winning against all competitors at 38 years of age? This is an extraordinary story and Nestlé named their drink after him because they wanted to market it as a "strength" drink for children.
What has this got to do with mathematics? You will be amazed! One of the most famous mathematicians of all time was Milo's teacher and friend. They were, by all accounts, "good buddies." I cannot see this product or hear the name "Milo" without thinking of these two remarkable men, the mathematics, philosophy, music and science of their time, and the history of the world during the sixth century BC. I hope, after watching this video, that you will be similarly enriched!
Who was his friend and teacher? None other than Pythagoras! I will have a lot more to say about Pythagoras at a later time. Our culture is greatly indebted to Pythagoras and his community (including Milo).
There are stories about Milo and a bull.  One was that he started squatting the calf just after it had been born, and kept doing so until it was a 4 year old bull.  Another was that he carried a bull through the archway into the arena at the Olymic Games one year in order to intimidate the opposition!  I have read a variety of stories and encourage you to read about Milo on Wikipedia.  You might even like to Google his name and do some further reading and discovering.
Here is a close-up of the label on the 'original' Milo tin so that you can see Milo of Croton carrying the bull.